There are many romantic myths that every girl believes
In Kirameki High School, there is one such myth.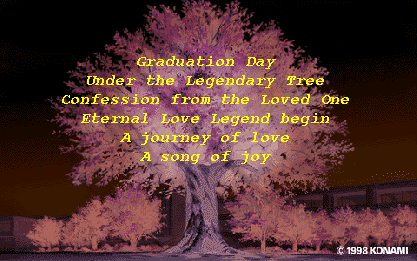 There is a legend that if a girl confesses her love to a boy under the big, old tree in the school podium on their Graduation Day, both of them will be blessed with eternal happiness together.
It is April 1995. The player has just arrived at Kirameki High School. There, he found out his childhood friend of 10 years and neighbour, Shiori Fujisaki was one of his classmates. He makes it his goal to win her heart by the end of his Senior year.
In those three years, the player trained hard, in both academics and sports to try and impress Shiori and win her love. But will Shiori confess her love to the player on that fated day and fulfill his destiny, or did the player change his mind during those long three years and find love with another?
Tokimeki refers to the throbbing of the heart, and the title translates to Memorial of the Heart's throbbing. As you can tell, Tokimeki is a game mainly focused on romance. Personally, I think this is a very sentimental and sweet game that does focus on the Heart's Throbbing as it's title suggests.
[Characters] Exactly what it says.
[Tokimeki Translations] Translations of Events in the game.
[Guide to Playing Tokimeki] By no means complete, expect me to update it now and then.